As the sun dutifully rises over the mountains each morning, so does your invitation to make the day your own.
Whether it's a brisk hike in the rolling hills, a leisurely swim at one of our resort-style pools or simply enjoying the company of your loved ones, Estrella's options for a fulfilling life are available to you at a moment's notice.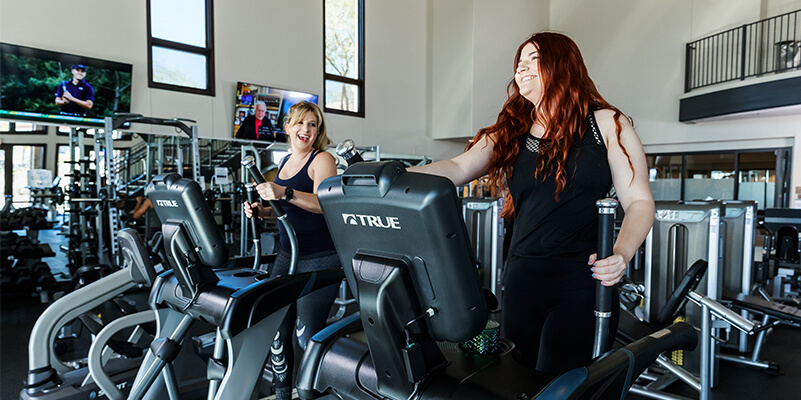 Each with its own distinct personality, Estrella has three Residents' Clubs: Presidio, Starpointe and CantaMia Village Center; full access included in their respective HOA dues. Residents can also enjoy the contemporary welcome center, Casa Lucero, including the vibrant Café Bebida and Copper State Bike & Hike shop open to the public daily.

The newest club is Presidio, a tranquil oasis nestled in the Montecito village. From the moment you walk through Presidio's inviting entrance, you experience all of the romance and relaxation of a resort without ever having to leave home. Casual spaces throughout Presidio are thoughtfully designed to bring together friends and family. Whether it's playing pool and watching a game in a sports-style lounge to relaxing by the picturesque fire pits under the stars, Presidio is the ideal place for a rejuvenating day.
Starpointe resides at the center of the Mountain Ranch village, the original clubhouse that features beautiful views of the lake, fitness center, sprawling family-friendly StarSplash Waterpark, lap pool, the Lakeside Grill restaurant, reservable ballrooms, a Youth Club, and child care area.

The CantaMia Village Center offers an exclusive clubhouse experience for CantaMia residents, while the Casa Lucero Welcome Center is an adventure-seeker's sanctuary with a cafe of healthy snacks and the Copper State Bike & Hike shop, both open to the public.
Experiencing the desert landscape by water is a perspective that's unexpected yet peaceful. The Yacht Club, set against Estrella's North Lake, is the place for a day of water-filled fun. Experience the North Lake from a vantage point that many don't get to see — by boat — while enjoying the palm trees on shoreline, the mountain backdrop and the sound of water gently cascading from the lake's statement fountains. Complimentary use of kayaks, paddle boats, canoes and sail boats are included in resident HOA fees.
The starting point to some of Arizona's most scenic landscapes, the Golf Club of Estrella welcomes beginners and seasoned players to experience desert golfing at its best. Operated by Troon, golf at Estrella is daily fee or an annual membership, which allows special rates and access. This par-72, 18-hole champion golf course, designed by the award-winning Nicklaus Design, is one of Estrella's signature experiences. The Player's Grill & Patio serves American fare and drinks daily.
VISIT ESTRELLAGOLF.COM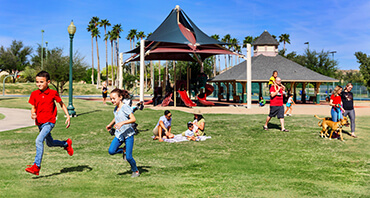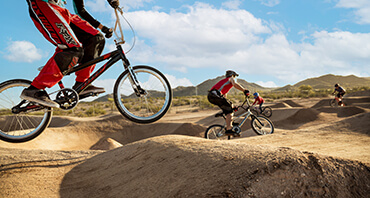 The mountainside of the Sierra Estrella Mountains offers 65+ miles of paths and trails, including the trails in the Estrella Mountain Regional Park and throughout the Estrella community draw you in as if they are your personal outdoor playground.
Perfect for everything from light walks to challenging bike rides, Estrella's mountains feel close enough to touch from the moment you walk out the front door. Over 50 neighborhood parks mean you will constantly be meeting new neighbors, finding fresh ways for the kids to have fun and enjoying the leisure of being outdoors.
Our community is known for its excelling schools that encourage young minds to be the best they can be. Within Estrella can be found two high-performing K-8 schools: Estrella Mountain Elementary School (with an IB offering) and Westar Elementary School (a STEM-focused school) before feeding into Estrella Foothills High School. Estrella Mountain Preschool and Phoenix Children's Academy are also ideal choices for daycare, preschool and Pre-K. With focus on the arts, science, sports, civics and citizenship, and more, these campuses offer the well-rounded education your child deserves.
From the Lakeside Grill at Starpointe, The Cantina in Presidio, Café Bebida at the Welcome Center, and the Player's Grill & Patio at the Golf Club, there's no shortage of dining options at Estrella. The onsite Elliot Market and Mountain Ranch Marketplace offer even more options including Taste of Italy, Oasis Bagels, Starbucks, Papa John's, Subway, McDonald's, Taco Bell, and Safeway.

Estrella's onsite services include two Fire Stations, a Public Safety Facility, onsite 24-hour ambulatory service located in Mountain Ranch Marketplace, as well as a gas station, salon, banking, grocery, medical services and more at Elliot Market and Mountain Ranch Marketplace.
Just as you would find on the Main Street of a small town, Estrella has several shops and services that are conveniently located to meet the needs of our community.